In a less than two weeks after recieving a nomination for Leibster Award, I've recieved another nomination! This nomination came from
Lacquered Nails
for the Versatile Blogger Award.
Thank you soooo much!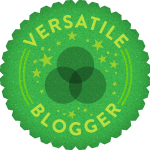 1) Nominate 15 bloggers who are "relatively" new to blogging.
2) Let them know that you have nominated them.
3) Share 7 random facts about yourself.
4) Thank the bloggers that have nominated you.
5) Add the Versatile Blogger Award picture to your blog post.
I would like to nomiate the following fabulous blogs:
The 7 random facts about me:
1) Sometimes I laugh so much my cheeks really hurt! and I sometimes snort when I laugh too. Yeah hilarious right :-P
2) I LOVE cats. But this probably comes as no surprise. I particularly love my cat Chester, he's a Burmese Blue. I often describe him as a dog trapped inside a cats body. He fetches!! He's the best!
3) I have a real fascination with celebrity spotting.
4
) Love Winter, love skiing, love open fire places, love running and swimming when it's raining.
5) I have a real OCD about having things in sets... this doesn't help when nail polishes always seem to come out in collections, this doesn't help my bank account.
6) Enjoy watching funny movies, or rom-coms. Nothing too serious and definitly never EVER horror!!
7) My knees go weak when I hear Michael Buble sing (not literally) but he makes me melt.
Now for my NOTD: I'm wearing China Glaze Elephant Walk from the new On Safari (Native) Collection. It has a very subtle silver shimmer in it which is different to other grey's in my collection. I think this is very similar to OPI's French Quarter For Your Thoughts or OPI Suzi Takes The Wheel (minus the shimmer of course). Would you like to see a comparison swatch of these three?
These are my first China Glaze purchases. So far I love the colours, but I'm struggling to shift from my OPI's. My first thoughts on China Glaze is the consistency of the polish is more thicker, and I'm still getting a hang of the brush. But like I said, I love China Glaze's colours :D